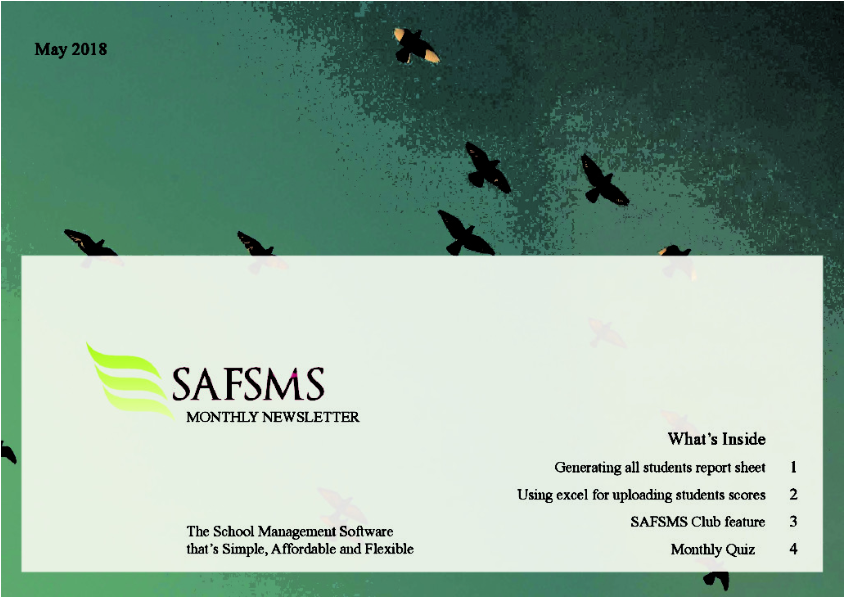 Hi!
With SAFSMS, we strive to find better ways for you to carry out your academic tasks. In this edition, find out a much easier way to upload all your students' scores and generate results to send to parents via email without hassle.
We also update you on the cool things you can do with the club feature. Enjoy.
The New, Easier Way to Generate Bulk Report sheets
Here's what you need to do:
First make sure you've added an email you want your results to be sent to. You can do that under Report Configuration.
Just Go to Report Email Client > Send Generated Report to this email and enter your email.
Uploading Student Results using Excel Sheets
You're already familiar with inputting the scores directly onto SAFSMS but,  are you aware there's another awesome way of doing that?
Simply download an excel sheet containing the list of all the students in a class from SAFSMS, insert the students' scores onto the sheet & upload.
Managing Clubs & Extracurricular
SAFSMS club feature allows you manage your various school clubs efficiently by monitoring and assigning clubs to each student.
With this feature, all your extra curricular activities can be organized without fuss.
Refer a Friend
We're introducing a referral program for our esteemed clients. Once you introduce SAFSMS to new schools and ensure they sign-up on our platform, you stand a chance to enjoy mouth-watering discounts on your own renewal fee.
Quiz Yourself
How smart are you? Try and find the answer to our brain teaser this month.  First 3 correct answers win a data bundle – just submit your answers to newsletter.safsms@flexisaf.com.
Quiz answers will be published in next month's issue. Goodluck!
Download the PDF newsletter below for full access to all articles and quiz. See you in the next issue!