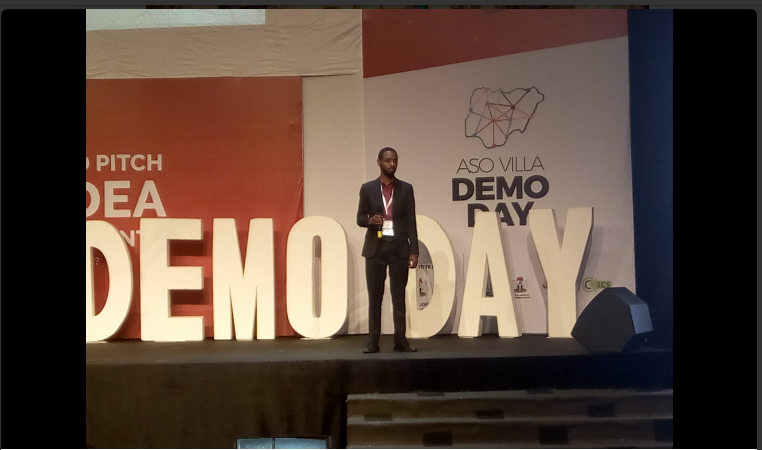 FlexiSAF's CEO, Faiz Bashir, writes & shares his experience pitching at one of the most anticipated Nigerian tech initiatives of the year: The Aso Villa Demo Day (AVDD) 2016
 A Day Before AVDD
On Wednesday 22nd June, I got an opportunity to pitch SAFSM, A school ERP software at the Aso Villa Demo Day which was held at the Landmark Hotel, Lagos. FlexiSAF got the invite about 24 hours prior to the event and one can only imagine the last minute preparation that went into it! I mean, with the way some airlines cancel their flights or change course unexpectedly, I needed to somehow get myself to Lagos from Abuja. And to top it all off, I had to cancel my appointments for the next 24 hours plus rehearse all my things I would be saying on that day which isn't always the easiest thing to do (giving 3 minutes to pitch your business idea that could potentially get you to speak in front of Mr. President if done well, is really not a walk in the park). Even Steve Jobs understood this.
On the Aso Vila Demo Day
There were quite a number of folks that had good ideas with solid business models. One Seyi Fakoya made a very good pitch on how they developed mobile apps and generated some revenue of about N35m. I was surprised when one of the judges from the 1st set of panelists said that "his ideas was already an established business and did not get why he had to pitch."
Reflecting back on the key objective of the "Pitch to Mr. President" event, which is to help in diversifying the Nigerian economy using technology and solve the unemployment challenges, I asked myself, "are we really serious if we think N35m revenue in a business is good enough and does not require investment?" I looked around for a moment to confirm that I was actually in the right venue, which obviously I was.
A few minutes later, the 2nd panel came on-board and I preferred their response to the "pitchers". Later in the evening, the last panel took over and soon as I found out that two (2) of the judges were reps from Google and Cisco, I knew I could mention the revenue traction of 10 times what another guy Okafor, pitched and we would resonate on the same frequency. In less than an hour (about 4:30pm), I happened to pitch to them.
Generally, these are the key things that investors always look out for in a business idea:
 1) The Problem
What problem are you trying to solve? Challenges are generally business opportunities from the perspective of the entrepreneur. Investors want to understand what problem you are trying to solve.
 2) Solution to the Problem
How are you addressing the problem and how are you doing it differently? What are the benefits that your target customers will drive (or are driving) from your solution?
3) Business Model     
How will the business generate money by solving the problem? Who is going to pay for what?
4) Scalability 
How will you easily and quickly replicate (implement) the solution to as many customers as possible at an affordable cost. This is key for any venture to grow into a large scale business and become profitable.
5) Traction
Investors are always watching out for the numbers. They want to know, how many customers you have so far? What is your growth rate like? How much money has it generated so far? The numbers is proof that the business idea is viable.
6) Investment
Investors want to know how much investment you are looking for and how would you use the funds to actualize or grow the business.
The Pitch
In about three (3) minutes, I discussed how SAF School Management Software (SAFSMS), a  school ERP software, has helped over 300 schools to solve their challenges and how we intend to entirely transform education in Nigeria. Here's the piece:
"Majority of schools (at least 80% of more than 80,000 schools in Nigeria) still use manual methods to run their schools. School processes are in-efficient, there is absence or in-effective monitoring and evaluation and our classrooms are de-humanized by overloading teachers with boring and manual methods of lesson plan preparations, students' assessments and reports compilation.
Through SAFSMS, teachers now have more time to be innovative and more time to interact with students in the classroom. School administrators can easily co-ordinate and track activities while School Owners transparently view how funds are being spent.
One of the common feedback we get from our users is on the user experience of the SAFSMS. They also like that it is localized and meets their expectation. There are a number of cases where schools migrate from a foreign software to our solution.
Our business model is software as a service where schools pay termly subscription to our software.
Our growth rate is more than 100% annually in terms of clientele and revenue.
With Internet becoming more readily available and schools becoming more comfortable in adopting technology, this rate is geometrically increasing. There are thousands of monthly sessions on our product site (safsms.com) and with tens of leads via search engine daily. (safsms.com appears in Google's first page search result from keywords like "complete school management software" and "school management software in Nigeria".
With the injection of N200m in R & D, marketing & sales and operations, we project an annual turn over of about N2 billion in the next 5 years' with at least 20% profitability"
Want to hear more from the CEO? Follow him on Medium : https://medium.com/@faizbash