Schools that want to simplify their management processes and improve school quality look to SAF-Pay, a convenient tool that helps to make school fees payments online. A gateway from SAFSMS, designed with the busy Nigerian parent in mind, to streamline and consolidate fee payments processing between parents and schools. In a nutshell, it increases transparency for all the beneficiaries-students, their parents and the school.
 
How SAF-PAY Helps the Busy Parent & Accelerates Secure Fee Payments
Working class parents have busy schedules; balancing work & family (moreso, within this unstable economy) is quite tasking for most and nearly impossible for others. Parents constantly look for convenient ways of completing daily tasks to almost everything–for instance, the convenience that comes with on-line shopping  or making bank transfers via mobile banking.
If that's how they want things done, just be sure they will also look for convenient ways to stay involved in their child's education.
With SAF-Pay, parents no longer have to worry about following queues at the bank or handling cash/cheques that could get missing,  when they can simply make school fees payment online, securely from wherever they are. All the parent needs to do is use their unique Remita Retrieval Reference (RRR) code obtained from the system to make payment online at the school's bank internet site. They can have a peace of mind that payments are made safely and securely directly to the school.
SAF-PAY doesn't stop there. The gateway provides instant notification of fee payments made, so busy parents don't have to worry about following up with the School to find out whether payments have gone through or not. Also, they can receive reminders on any outstanding payment they have, so they can resolve that as soon as possible.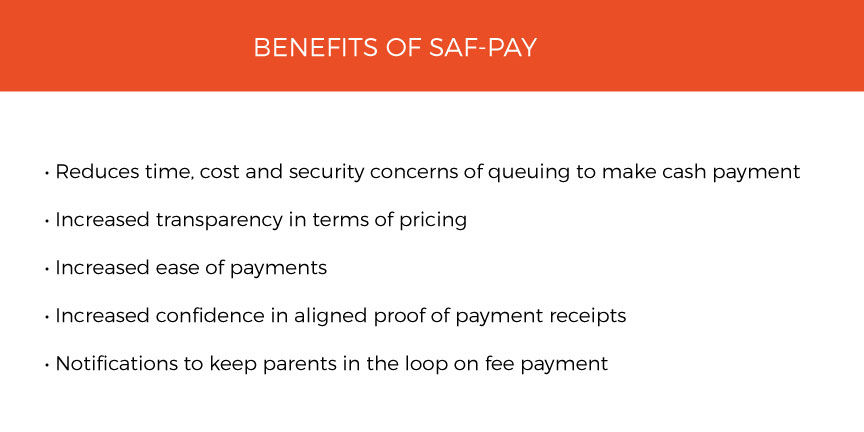 Sounds interesting? Want to learn more? Visit SAFSMS,  The Simple,Affordable & Flexible School Management Software for Nigerian Schools