Before introducing technology in the educational sector, one of the biggest problems with paying fees was the long and unnecessary queues at the bank. Then, there's the submission of payment tellers at the bursar's office, where you would be issued receipts. These receipts had to be kept safe; otherwise, you might be requested to make another payment due to a lack of proper record keeping.  With the use of a school management app, however, parents can pay school fees from anywhere and at any time on their mobile devices. The latter makes payment convenient and free of hassles, and thanks to the app's built-in security measures, such payments remain secure. 
School management apps are tools, platforms, or applications that help academic organisations such as schools and universities manage their procedures. One of the many benefits of a school management app is the ease of making payments and tracking. 
A robust school management application ensures the highest industry standards secure payment portals. In addition, they are incredibly safe and straightforward to use, making them the ideal payment gateway for school management applications.
SAF-PAY – Integrated School Fees Payment System
Processing fees at any school or university is one of the most delicate procedures, from generation to payment. As a result, it deals with confidential economic data and directly impacts the bottom line. In addition, institutions now manage student fees and payments by parents differently because of the digital revolution.
It is no longer the case when there were long lines in the administrative office on the day of fee payment and accountants carrying large files containing the details of the fees collected individually. All the hassles related to depositing cash and cheques of collected fees and handling bad cheques are now fading slowly with the increased usage of digitisation software tools in all processes related to running an educational institution.
Managing accounting and fee payments is not one of the primary functions of a school, but organisations have allocated human resources and funds to handle them manually. Therefore, it is safe to say that in no distant time, the struggle for fee collection, payment and proper documentation for both parents and the school is gradually becoming a thing of the past.
Due to the inherent complexities in the structure of operations of a school, the idea of online fee payment and collection may appear to be straightforward. However, utilising such a system and process would bring about several benefits to schools and colleges. The online fees interface is user-friendly for parents, teachers, and administrators. However, the mobile app interface makes it easy for parents who are not tech-savvy to pay fees.
The user experience design protects parents from making errors while making fee payments online. In addition, the interface for administrators and institution owners check for information and perform other actions.
Apart from entering predetermined fields into the configuration window of the payment gateway settings, there is not much else to do when taking on a new payment gateway except to complete the paperwork required. It is relatively easy to master once implemented since all popular payment gateways follow the same process for users to navigate between payment gateways.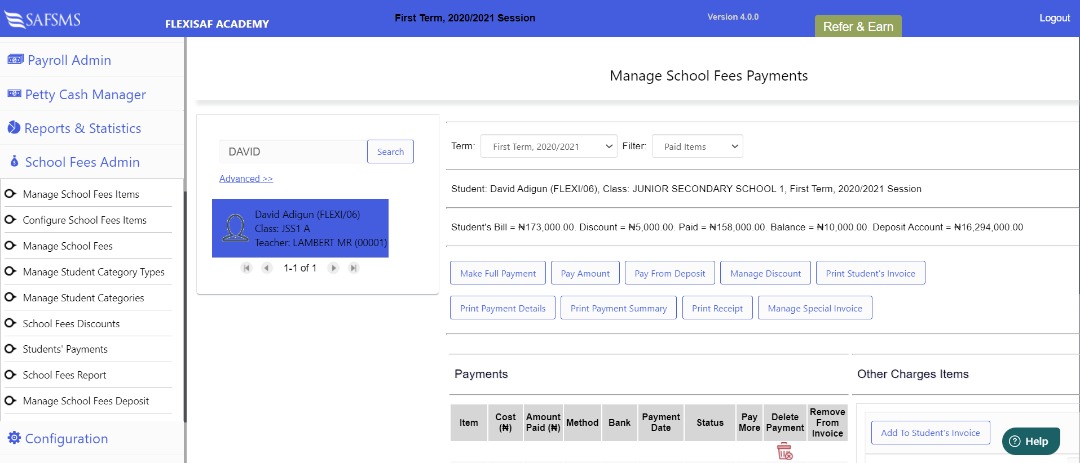 In an educational institution, implementing a payment gateway simplifies the entire payment collection process previously managed by multiple walls. All reports are generated in one place, consolidating all activities. As well as saving time and money for parents and administrators, the online fee payment and collection process eliminate travel expenses associated with traditional on-campus fee payment. Furthermore, it saves time for students since they do not have to go to the campus to pay their fees. In addition, the online fee system eliminates the requirement for teachers to collect fees from their classes.
Since the online fee system eliminates the need for large files and papers, it minimises paper and storage space on campus. In addition, the app generates and maintains receipts online, so there is no need to store hard copies. The fee-related details, such as fines and discounts, are automatically calculated and done in real-time. Therefore, administrators will save time by not having to calculate them manually. Digital payments are instantaneous, so the institution receives the funds immediately, and the funds get to their bank account within a few days.
The cloud technology allows the system to handle thousands of fee transactions at once due to its scalability. Hundreds of parents will rush to make fee payments on fee due dates. The system will automatically scale to meet these spikes in demand.
Configuring the payment gateways in the ERP allows customisation to match the unique fee structure of the institution. This customisation stays independent of the default payment gateway algorithm. It increases the transparency of the institution's overall fee transactions and collections by utilising an online fee payment and collection system.
Institutional management and administrators have access to detailed reports and analytics to examine the fee collection process. These reports help them identify trends and patterns that can make future decisions. A digital backup of the system is available at all times in an emergency. In addition, all transaction data is digital in case of a future audit.
The institution needs to send frequent notifications and alerts to the users to ensure that parents and guardians are informed well in advance and pay fees on time. In addition, the notifications and alerts help parents remember important payment dates by keeping them informed.
With the cloud technology enabling the online fee payment and collection system, the system is available 24/7 from anywhere globally. So, for example, parents with busy schedules can pay their fees at the last minute, regardless of their location.
Kindly share this article if you find it helpful.